In addition to providing senior placement services, we also want to help you have an easier life! With that in mind, these Easter activities are perfect for both the young and the old. They do not require many supplies and are fast and not too messy. Have a Happy Easter!
Paper Loop Chick
This Paper Loop Chick is simple and fun project for kids to make with some basic craft supplies. Easter is a great time to make chick, lamb and duck crafts to decorate your Easter table and the kids will love to be a part of it.
Trivia: Araucanas are a breed of chicken originally developed in Chile. They lay light bluish or greenish eggs, often resembling dyed Easter eggs.
Supplies
Yellow Construction Paper
Scissors
Glue
Yellow Feathers
Orange Pipe Cleaners
Markers
Instructions
To make this Paper Loop Chick, cut a 2″ strip of yellow paper.Glue ends together to make a loop.
Cut a pipe cleaner in half. Cut 2″ off both pieces. Twist around the remaining pieces to make feet. Glue to the bottom of the loop.
Draw on eyes and a beak.
Glue a feather to each side and a feather to the top.
VIA: https://www.freekidscrafts.com/paper-loop-chick/
Here's what you need:  cardstock, origami paper (or other colorful paper), stapler, glue, scissors, elastic (or ribbon), and the Paper Bunny Ears template
Print out Paper bunny ears template.  Trace onto cardstock.
Cut out.
Cut inner part of the ear from origami paper and glue.
Cut approximately nine inches of elastic (this size worked pretty well for most kids and adults, but I did change sizes some for the smaller heads).  I used foldover elastic which I got from a fab Pick your Plum sale a while back.  The foldover elastic made the ears nice and soft and comfy to wear, but any elastic would work.  You could also use ribbon and tie in the back.  Staple elastic onto bunny ears.
And there, you've got some super cute little bunny ears…
VIA:http://buzzmills.typepad.com/blog/2013/03/paper-bunny-ears-a-tutorial.html
Paper Plate Bunny
-Construction Paper
-Pom Poms
-Pipe Cleaners
-Googly Eyes
–Small Paper Plates
-Glue
For the nose: take 3 pipe cleaners and twist them around each other in the center so that they are connected/stuck together. The part you twist is the hidden part that will go under the nose (pom pom) and will be hidden. This will leave you with the whiskers sticking out on both sides.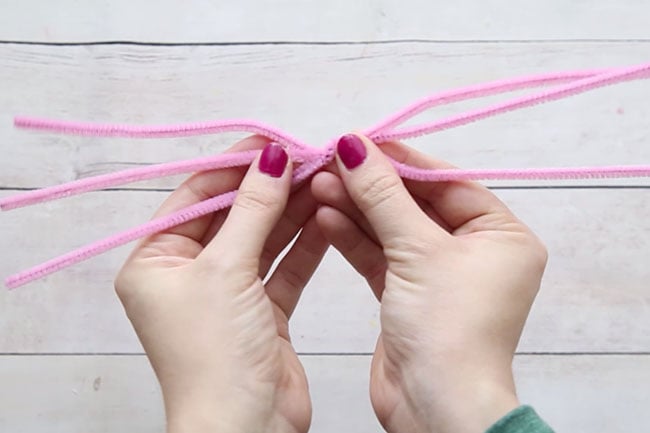 Then glue to the paper plate. Leave time to let dry as this step will require it to be glued well or the pipe cleaners will fall off.
You can also glue with a hot glue gun (which will stay better) but make sure adults do this part and then let the kids glue the pom pom on once the hot glue has dried and cooled.
Once glue is dry from the pipe cleaners, now glue on your nose (pom pom).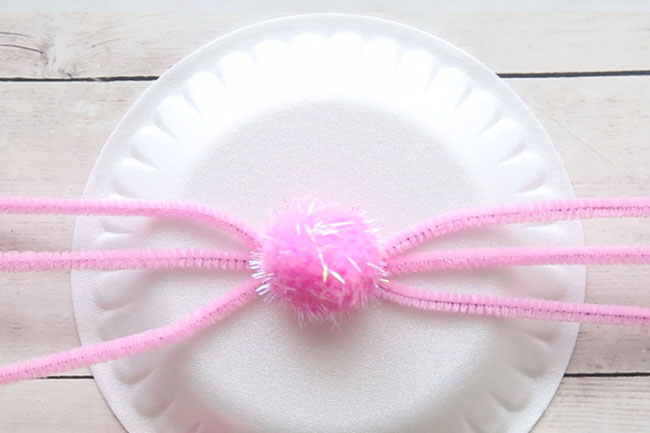 For the ears: Really all you need to do is cut out some ears from white construction paper and then cut out a smaller inside ear with a different color. We chose pink and yellow.
For the eyes: We used googly eyes and just glued them on but you could also use construction paper and make the eyes yourself.
For the mouth: We simply just drew on the mouth with a black marker.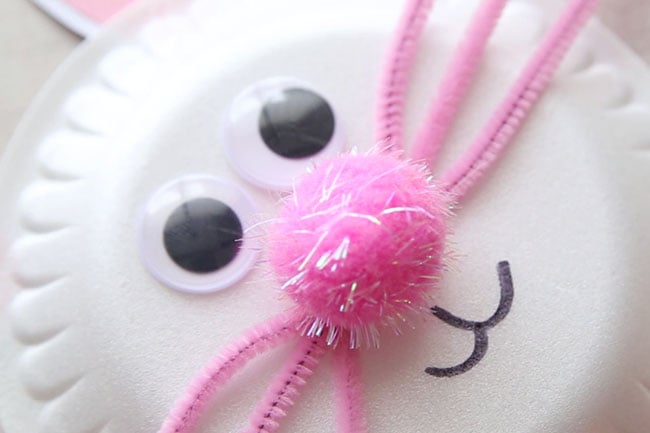 VIA: https://www.thebestideasforkids.com/paper-plate-easter-bunny-craft/